Infographic: Donors in 2020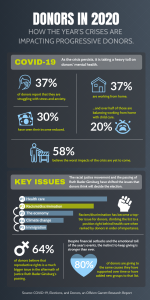 We compiled key findings from our October study on COVID-19, the 2020 election, and the year's impacts on progressive donors. Click on the image above to expand.
COVID-19, Elections, and Donors
Since April, O'Brien Garrett has been exploring how the multiple crises of 2020 are impacting donors and their giving decisions, and using that information to help our clients navigate this fast-moving and extremely challenging year. This memo summarizes the findings of the third and final pre-election installment of our research series.
Our series started out focused on COVID-19 and its early impacts on donors' health and finances. But this has been a difficult year in multiple dimensions. So, over time, we expanded our research to explore many additional issues and their interplay with one another.
COVID-19 and Beyond: How Donors are Weathering the Crises of 2020
This memo summarizes the results of the second in a series of O'Brien Garrett surveys to help track the ways in which donors are experiencing and responding to the extraordinary events of 2020.
The Pandemic and Donor Behavior
How are direct response donors reacting to the COVID-19 outbreak? How is it affecting their own lives and their philanthropic priorities? Where are things heading in terms of both donor willingness and ability to support causes they have long supported or to invest in new ones?
These are questions the entire nonprofit community is grappling with as we respond to a pandemic that is having both a global impact and an intensely personal one on the lives of direct response donors.
To begin making sense of donors' reactions to this unprecedented donor climate, O'Brien Garrett conducted an extensive online survey in April 2020. We believe the survey offers some valuable insights into donors' current experiences, perspectives, and behavior. This data and analysis should help inform organizations' strategies as we all strive to make sense of this truly unique fundraising and donor communications landscape
Navigating An Extraordinary Election Year
Obviously — thanks to Donald Trump — this is no ordinary election. That makes it harder to predict if and how donors will adjust their giving behavior in the months ahead. But one thing is for sure: As Trump swings back and forth from looking like a threat to looking like a clown, progressive donors will keep shifting from disgusted bemusement over the Trump phenomenon to "he's one step away from the White House" alarm.
So, how do we stay in contact with donors' mindset and emotional state? And what can we do to protect our fundraising programs as we move through a volatile second half of 2016?